The Church Bistro – Hahei, NZ
A quality dining experience…
The newly refurbished Church Bistro is a casual wine bar and eatery. You can expect to see simple, Kiwi style, European inspired food, plus seasonal and regular specials. We look forward to welcoming families, friends, and visitors in fact everyone that enjoys good food, great wine and good times!
We are available for birthday celebrations, business functions and boutique style weddings. We are happy to talk with you about your requests and to discuss menu options.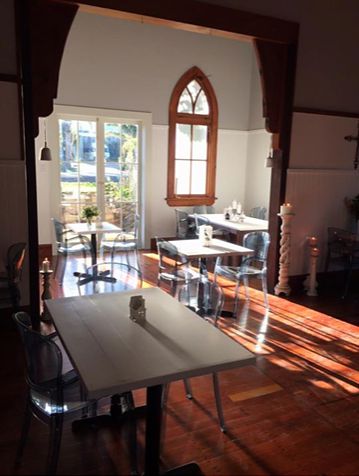 The Church Bistro is situated in Hahei and conveniently placed in and around some of the most beautiful beaches in New Zealand including Cathedral Cove and Hot Water Beach.
The Church Bistro is housed in the original church building from the early 1900's, and relocated from its original home, Taumarunui. The exposed kauri beams, classical joinery and original floor add to its charm and character.

Twice baked cauliflower souffle

$17.00

with pickled vegetables


snapper/salmon/crab/fennel and orange salad


with roast honey carrots and beets/whipped goats cheese caramelized walnuts/orange balsamic

Braised chicken pot pie

$30.00

pancetta/peas/madeira sauces


duck confit/apple/cider/crispy crumb


Rustic seafood soup

$34.00

terakihi/prawns/clams/mussels/rouille


Kumara bacon hash cakes/wilted greens/mushrooms/red wine jus

Chocolate and Caramel platter

$19.00

Chocolate pave/Sticky date pudding/toffee sauce/caramel cheesecake log/praline/salted caramel popcorn/homemade ice cream


Brioche bread and butter pudding

$15.00

apricot/dark chocolate/hazelnut/vanilla anglaise


Passion fruit bombe Alaska

$15.00
Merry Christmas and a Happy New Year!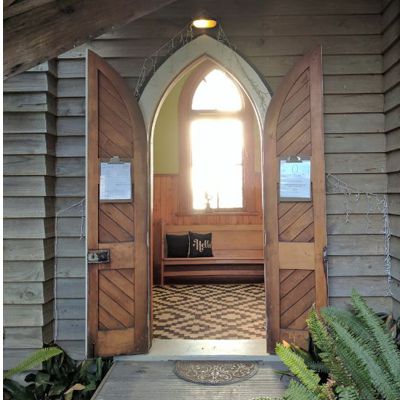 We would love to see you!
Open 7 days from 3.00pm
Find us at 87 Beach Rd, Hahei, NZ